Why Mysore Is One Of The Best Places In India To Buy A House
One has to factors in a lot many things before they make a decision on settling in in a city. While doing so, you must consider Karnataka's Mysore as an option. Why so?  For starters, the city was ranked the cleanest city in India the Union Urban Development Ministry for the second time in a row.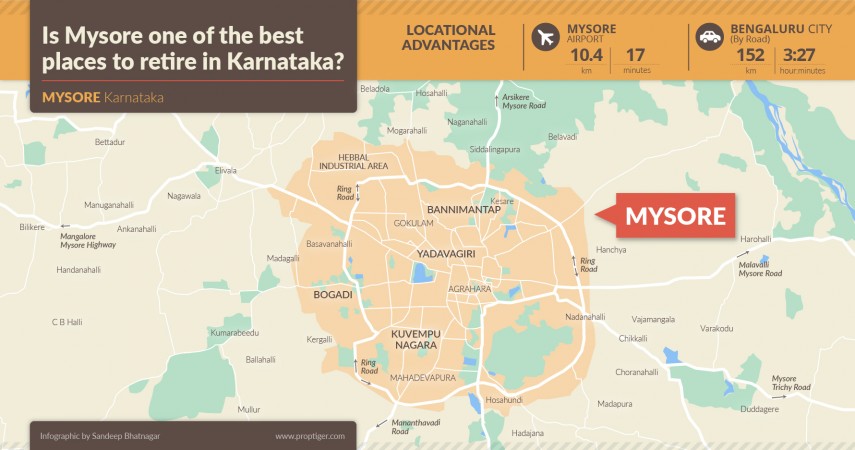 And then, there are many other positive points, too.
 The natural beauty
A popular tourist spot, Mysore is known for its natural beauty. The serene environment provides citizens all they can dream of. An addition was made to the exiting beauty of Mysore when the Tree Park was inaugurated here last year. The park is developed at Yelwal, just 10 kilometres away from Mysore. The tree park sprawls over a land of 500 acres and is created as an initiative to maintain the green cover. 
The infrastructural support
Infrastructure is one of the key factors that are considered while choosing a place for living. Mysore has a sound infrastructure and the government is making great efforts to further improve the liveability standard of the city. The upcoming 60-m wide 10-lane Bengaluru-Mysuru expressway will make commuting easier here. In just 90 minutes, one can reach Mysore from Bengaluru. Moreover, smart grid functionalities are implanted in the city under the National Smart Grid Mission (NSGM). Advance metres have fixed in Mysore ensuring that the city becomes more efficient in its use of electrical energy. Mysore's proximity to Bengaluru and the upcoming super-fast trains further boosts the infrastructure of the city creating demand for new apartments in Mysore.
The investment opportunity
Sound infrastructure and lower living cost makes this Tier- II city a great location for retirement. Indians residing in metropolitan cities or abroad considers Mysore as a good investment opportunity. People from the middle class or the upper-middle class can easily afford apartments in Mysore. Many people purchase apartments for renting out the apartments to earn promising returns and keep it as an alternative to move after retirement. Further, Mysore is an upcoming information technology (IT) hub and houses offices of prominent companies such as Wipro Infotech, WeP Peripherals Ltd., Infosys, Software Paradigms (India), Larson and Toubro and Marlabs. This is also pushing the demand for residential real estate here.
Also Read:
Looking At Rental Returns? Here's Why You Should Shortlist Mysore's Vijayanagar