12:30
Budget 2019: Tax Rebate
Citizens having taxable annual income upto Rs 5 lakh will get full tax rebate, says Goyal.Additionally, people with gross income upto Rs 6.50 lakh will also not have to pay any tax.
12:15
Budget 2019: Vision 2030
· Aim to provide house to every family by 2030
· Electric vehicles key part of govt's vision for 2030
· Renewable resources to be major source of energy by 2030
11:50
Budget 2019: India Is World's Fastest Highway Developer
India, today, is fastest highway developer in the world. Almost 27 km of highways are built each day, says Goyal.
11:35
Budget 2019: 1.53 crore homes build between 2014 and 2018 under PMAY.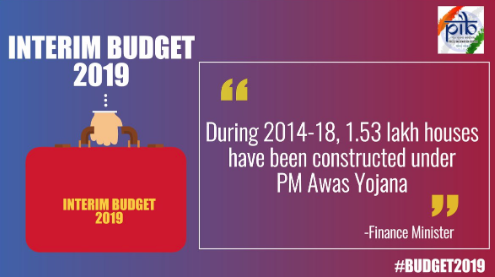 11:31
Budget 2019: Pradhan Mantri Awas Yojana
Over 1.53 crore houses have been constructed under PM Awas Yojana during 2014-18, says Goyal.
11:25
Budget 2019: Gram Sadak Yojana
Pace at which rural roads are being constructed has tripled under our tenure, says FM Piyush Goyal
11:06
Budget 2019: We will realise a New India by 2022.
10:30
Interim finance minister Piyush Goyal reaches Parliament.
10:25
Interim finance minister Piyush Goyal meets President Ramnath Kovind ahead of his Budget Speech. (Source: Twitter)
10:15
Prime Minister Narendra Modi addresses media ahead of the Interim Budget 2019. (Source:PIB)
January 24, 11:00
Budget 2019: Interim finance minister Piyush Goyal to present Budget on February 1
Piyush Goyal has been appointed as the interim finance minister a week ahead February 1, when the Interim Budget will be presented in Parliament. Finance Minister Arun Jaitley is on a medical leave.