5 Creative Eco Resorts Around The World
A resort on a private island, Cayo Espanto, in Belize. (Photo credit: commons.wikimedia.org)
Who wouldn't love to have a holiday at a swanky resort located in an exotic location? Luxury resorts around the world are built to cater to the luxury and comfort demands of their guests, guaranteeing personalised service, aesthetic settings and haute cuisine. Following the path of sustainable homes, luxury resorts are now taking the step towards going green. They are investing in new technology and sustainable development to decrease their carbon footprints, even using recycled material to create avant garde interior decorations.
An eco resort is a luxury holiday destination, that has invested in improving its infrastructure to minimize its impact on the environment. These resorts are certified green by a third-party or the relevant state authority. Eco resorts are attracting a lot of interest the world over, with celebrity patrons and an avid following of tourists.
1.Longitude 131°, Australia
Located near the Ayer Rocks, the resort is built on huge sand dunes. It has 15 luxury tents that stand on stilts. This resort is built in such a way that it does not disturb the environment. The entire resort is said to run on solar power.
2.Whitepod Eco Resort, Swiss Alps
Whitepod Eco Resort is situated at an altitude of 5, 577 ft. in the Swiss Alps. The 15 geodesic dome-shaped pods are located next to the chalet where guests can socialize. The domes are built in such a manner that they have a very minimal adverse impact on the environment, and they are comfortable. They are assembled on wooden platforms, and blend with the surroundings and leave no trace behind if they are removed. To keep the domes warm, the latest insulation technology is used for the stoves that use less firewood. The furniture is mostly made of recycled material or Swiss wood. The waste generated is recycled as per the guidelines of the authority of Swiss Alps.
3.Bardessono Yountville, California
Bardessono, located in Yountville, California, is LEED Platinum Certified -- which means that everything here, from the infrastructure to the furniture, provisions of water and electricity, are all environmental friendly. Bardessono is said to have a renewable power system, with 947 solar panels and 82 geothermal wells that are used to heat water. The buildings are made of stone and the furniture is made of reused wood and redwood trees that were first made into old wine barrels. The paint used here has low volatile organic compound (VOC), and all construction materials used are stated to be allergen free and non-toxic. In fact, the artworks displayed here are made of recycled materials.
Motion sensors, low-flow toilets, large windows for natural light, ventilation and temperature control are the minor details that make this eco resort a great place to stay.
4. Adrere Amellal Oasis Eco Lodge, Egypt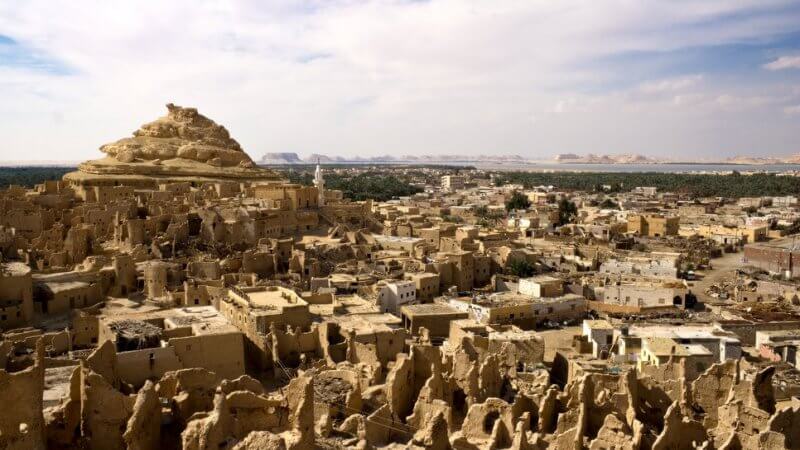 Siwa Oasis is famous for its keshaf ruins. (Photo credit: http://www2.turismo.it)
Siwa Oasis in Egypt is located near a lake, and the resort is built amidst old ruins of Egyptian history. The place is known for its sand dunes, ancient olive and palm groves, mineral springs and an exquisite cuisine that includes traditional dishes cooked in honey-glazed clay pots. This lodge does not provide Wi-Fi, phone facilities or electricity. The USP of this resort is to give guests a break from the fast-paced civilization. The infrastructure is renovated by Environmental Quality International (EQI) that wants to preserve keshaf - a mixture of salt, mud, rock and stone masonry. The thick walls of the resort absorb heat and keep the insides of the building cool. Since there is no electricity, beeswax candles are used to light up the rooms and this creates a romantic environment.
4.Blackadore Caye Resort, Belize
A resort with 68 villas for guests has been proposed to be built on an exotic island, Blackadore Caye, on the coast of Belize, by Jason F. McLennan. Situated in the north of Mexico and south of Guatemala, the island is unpopulated and covers an area of 104 acres. This beautiful island is patronized by Hollywood actor Leonardo DiCaprio, who bought it for $1.75 million, along with Jeff Gram, the owner of Cayo Espanto Island Resort.
Blackadore Caye is known for its coral reefs and marine biodiversity. Unfortunately, the island is suffering from coastline erosion, overfishing and deforestation of mangrove trees. By restoring it and turning it into a celebrity eco resort will not only make the island ecologically safe but also make it a great place for tourists looking for beautiful sunsets, great villas and infinity pools.