Data Labs Research: The Future Cities Of India
In the developed world, urbanization is near-complete. But the developing world will add nearly five billion people to its cities in the next hundred years.
India is one of them, and a prominent one.
Urbanization has never been so rapid before. In India, urbanization is faster than in any other country in the world. The story that runs parallel to urbanization is migration, which gives the big cities their much-needed labor force. Those who move, are catalysts of change. With them, local economies, businesses and government and non-government enterprises thrive.
But to live in cities that allow people to reach their highest potential, migrants often have to find homes in mud-floored shantytowns with or without basic amenities. To commute to work, especially in cities like Mumbai, they often risk their lives hanging outside trains.
With urbanization, the average living space doubled in the developing world. But, in India and much of the developing world, living spaces have shrunk, spawning slums on a large scale.
India needs more cities. In the next hundred years, to shelter 5.2 billion people, at twice the average living spaces of today, we will need 43 new cities (see 1.1).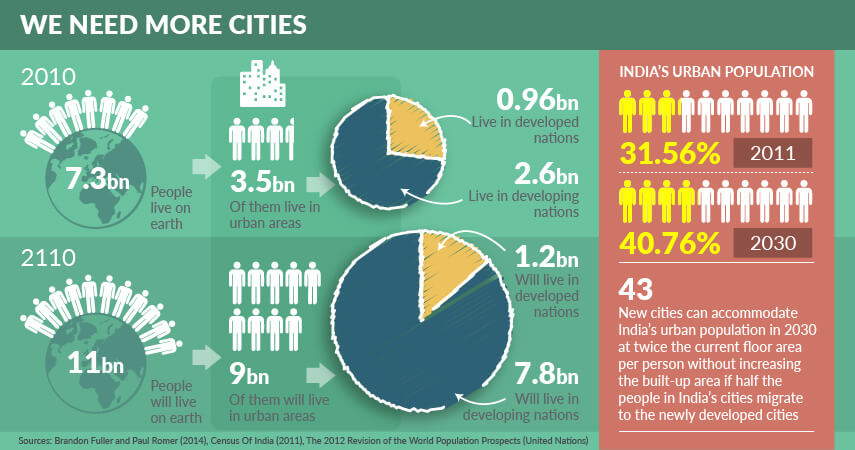 1.1 (Infographic By Sandeep Bhatnagar.)
Economists with a fervor for urban planning suggest, broadly, three ways of decongesting existing cities and developing many more:
Raising the built-up area of existing third world cities six fold;

Allowing people to move to first world cities; and

Developing 625 new cities that will accommodate the increasing population, allowing half the people in existing cities to vacate them.
All these matter. Governments across the world can facilitate these processes simultaneously, in varying degrees. This would stabilize the prices of real estate in India.
In India, we are building the Delhi-Mumbai industrial corridor, arguably the world's most ambitious infrastructure project. This is expected to allow 7 smart cities to develop, with backward integration with the 1483 km long Dedicated Freight Corridor (DFC).
The corridor would connect Delhi and Mumbai, India's two largest cities, with a high-speed railroad. The DFC would make transportation faster, turning the logistical costs of transporting manufactured goods the lowest in the world.
To understand the potential significance of large infrastructural projects, remember: A street grid was planned in 1811, anticipating massive population growth in the New York City. Modern Manhattan was born. Spawning entrepreneurship, the street grid raised real estate prices in the New York City exponentially.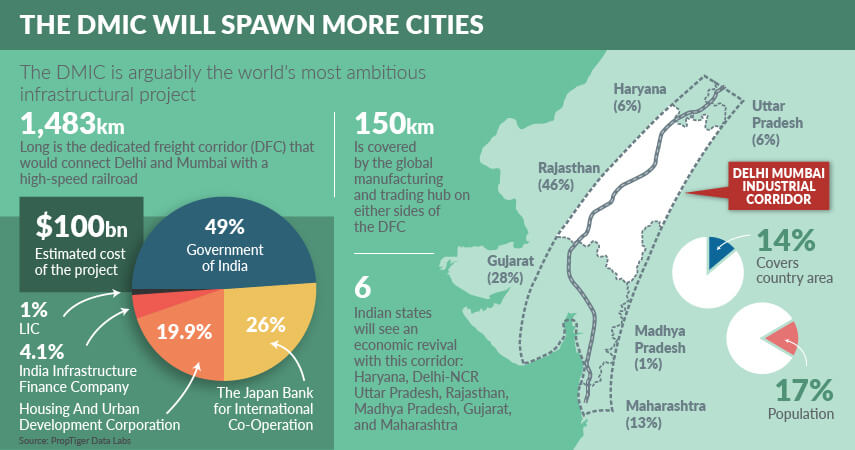 1.2 (Infographic By Sandeep Bhatnagar. Data by PropTiger Data Labs)
Now, it is commonly believed that smart cities run on technology. However, it is easier to import technology and private sector resources. Importing governance is far more difficult. The Delhi-Mumbai Industrial corridor corporation, however, is an autonomous body composed of the government and the private sector.
To unite first world governance with private sector resources, the Japanese government and India's major conglomerates will invest along this corridor. The corridor was expected to make land acquisition easy and the investment climate stable.
It is argued that the six Indian states along the corridor have agendas incompatible with the DMIC project. The difficulty in acquiring land and lack of accessibility to cheap and reliable power are also challenges facing the future growth and development in the DMIC.
However, two cities - Bhiwadi and Neemrana - along the corridor have been growing exponentially, taking the focus off the much saturated property markets in the National Capital Region Of Delhi (Delhi-NCR). While property in cities along the Delhi border - from Gurgaon to Noida and Greater Noida - have been increasingly becoming expensive, these cities in the NCR have emerged as attractive real estate destinations for home buyers and investors, especially for affordable homes, the much needed segment in residential real estate.
Bhiwadi and Neemrana: Shining Sisters
Two cities in the Delhi-NCR - Bhiwadi and Neemrana - have seen great development on the Delhi-Mumbai Industrial Corridor, largely because of policy measures of the Rajasthan government. Investment in the affordable homes segment in Bhiwadi and Neemrana has been greater too.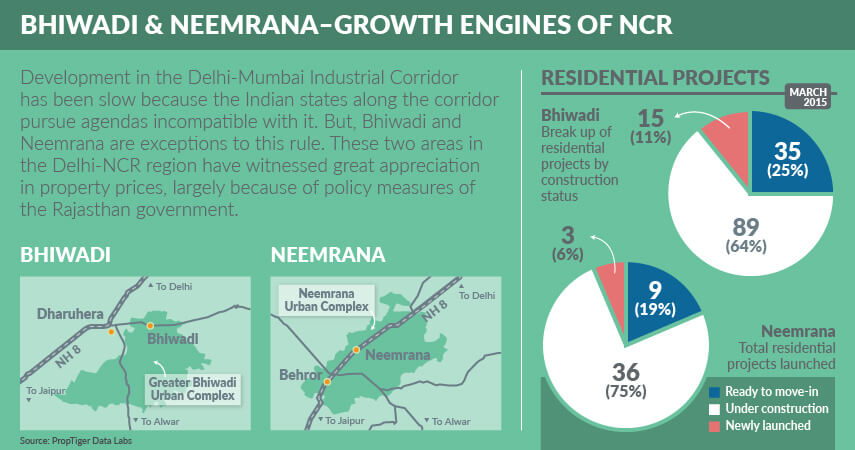 1.3 (Infographic By Sandeep Bhatnagar. Data by PropTiger Data Labs)
The Rajasthan government, in its affordable homes program in 2009, had waived the charges of external development, agriculture land use conversion and building plan approval. If they complete projects on time, developers will get twice the normal floor area ratio (FAR) + 0.5 FAR. This allows developers to create greater floor space in apartment complexes at a much lower cost because land is often costlier than additional floor space. After the submission of plans, developers would also be allowed to begin construction after 30 days.
Booming Prospects, Great Expectations
According to the 2011 Census, the total population of Bhiwadi, the golden gateway of Rajasthan, is 1-1.5 lakh. But, this might reach 15 lakh by 2031. In Greater Bhiwadi, there are 9 employment generating industrial complexes. Nearly 3,000 manufacturing enterprises are in operation, and many new SEZs and industrial outlets are likely to come up in the near future. Moreover, the upcoming infrastructural projects like the Multimodal Transit Station, Integrated Freight Complex, and Transport Nagar will facilitate efficient transport of goods and people.
Now, Cisco is preparing an information and communication technology masterplan for Khushkera-Bhiwadi, to improvise water management, enhance public safety, monitor energy consumption, and to provide similar services. Bhiwadi had much of its social infrastructure concentrated in a small area. Greater concentration of social infrastructure would allow many people to share such resources at a lower cost, and benefit from the advantages of agglomeration.
Neemrana is farther from Gurgaon, and spread over 3,000 acres, but apartments in Neemrana are priced higher than apartments in Bhiwadi. The Shahjahanpur-Neemrana-Behror urban complex is located between Gurgaon and Jaipur. There are many automobile and electronics hubs operating in this belt. The New Industrial Complex (Japanese Zone) is raising rental rates and the price of property in Neemrana.
Neemrana has many well-known universities and hospitals. Currently, over 25 companies employ nearly 10,000 people in Neemrana and have invested Rs 4,200 crore. The emerging knowledge and urban infrastructure-based global city will also generate more employment opportunities in the city.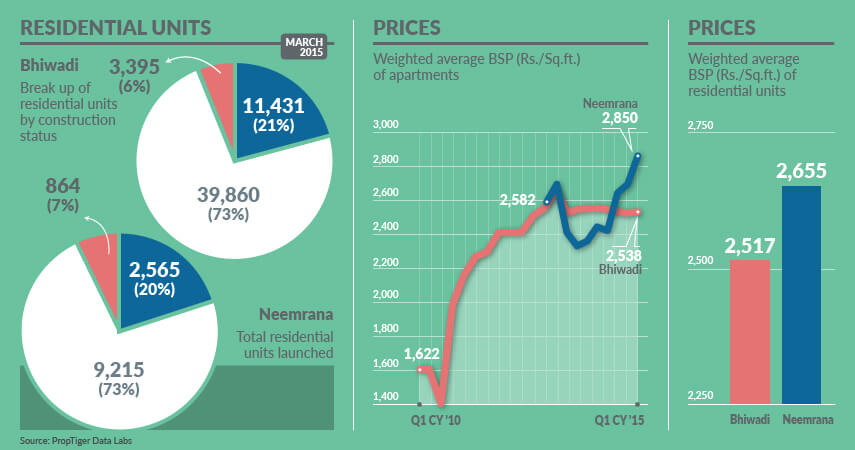 1.4 (Infographic By Sandeep Bhatnagar. Data by PropTiger Data Labs)
Competing Cities
Let us now compare the residential property markets in Bhiwadi and Neemrana in March 2015. About 25% of the projects and 21% of the units were ready-to-move-in in Greater Bhiwadi. But, in Neemrana, only 19% of the projects and 20% of the apartment units were ready for possession.
Still, there is greater demand than supply in Neemrana, especially from expatriates. As Bhiwadi and Neemrana are connected to NH-8, real estate investors expect great industrial development in these areas. This is especially true of Neemrana because Korean and Taiwanese firms are keen on investing here.
In Bhiwadi and Neemrana, the price appreciation is greater when compared to areas in Delhi, Gurgaon and Noida. Apartments are lower priced too, when compared to thee prices of apartments in Delhi, Gurgaon and Noida because these are areas where large scale development is yet to happen. The weighted average BSP (Rs. /Sq. Ft.) of apartments units in Bhiwadi and Neemrana in April 2015 were 2,517 and 2,655 respectively.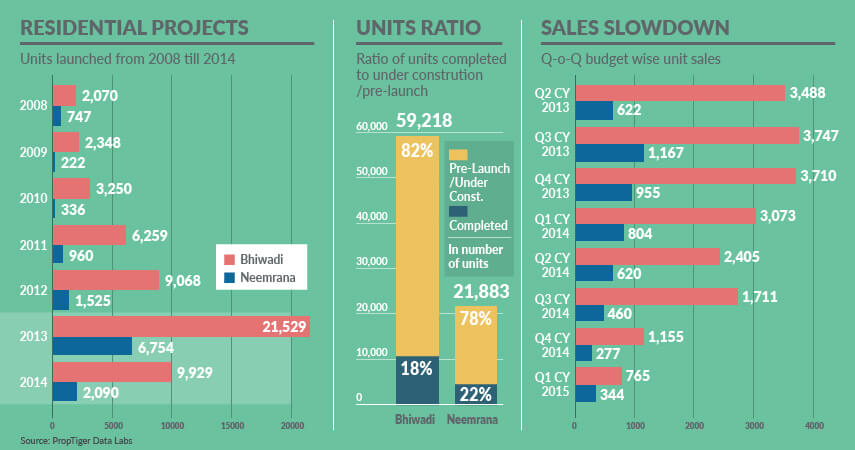 1.5 (Infographic By Sandeep Bhatnagar. Data by PropTiger Data Labs)
The number of units in Bhiwadi was 59,218, while in Neemrana, it was merely, 21,883. This suggests that Neemrana is greatly under-supplied (1.5) when compared to Bhiwadi because many early bird projects along the DMIC like Aerotropolis, Global city, Knowledge City and Multi-Modal Logistics Park (MMLP) are in Neemrana.
Sales and Prices
In Bhiwadi, from the third quarter (Q3) of 2010 to the third quarter (Q3) of 2014, prices have risen from Rs 1,619 to Rs 2,538 per sq. ft., though sales have dropped by nearly 68% since Q1 2014. In Neemrana, the prices have risen from Rs 2,582 in Q2 of 2012 to Rs 2,850 per sq. ft. in Q1 of 2015.
In Neemrana, after 30 Japanese companies set up plants, apartment units launched rose from 1, 525 in 2012 to 6,754 in 2013. But, in Neemrana too, since 2014 Q1, sales have dropped -- by 57%. Since 2010, price appreciation in Greater Bhiwadi has been 56%. In Neemrana, in the past two years, primary prices have risen by 6%.
Despite its growth potential, growth in the residential property markets in Neemrana are in its infancy. The Rajasthan State Industrial Development is investing heavily to make Bhiwadi and Neemrana industrial hubs, raising demand for residential property in the area.
In Bhiwadi, there has also been a rise in unsold inventory because real estate investors from Delhi and Gurgaon have been less keen on investing there in the recent past. This has led to a 30 month inventory overhang in the region. 98% of the unsold inventory in Greater Bhiwadi was priced less than 50 lakh, with 83% of the unsold stock less than 2 years old.
However, in Neemrana, inventory overhang is healthy, at 22 months. A whopping 78% of the unsold inventory in Neemrana is less than 2 years old (1.6). Moreover, the upcoming knowledge city and global city in Neemrana will stimulate growth in the region, leading to greater migration and population growth.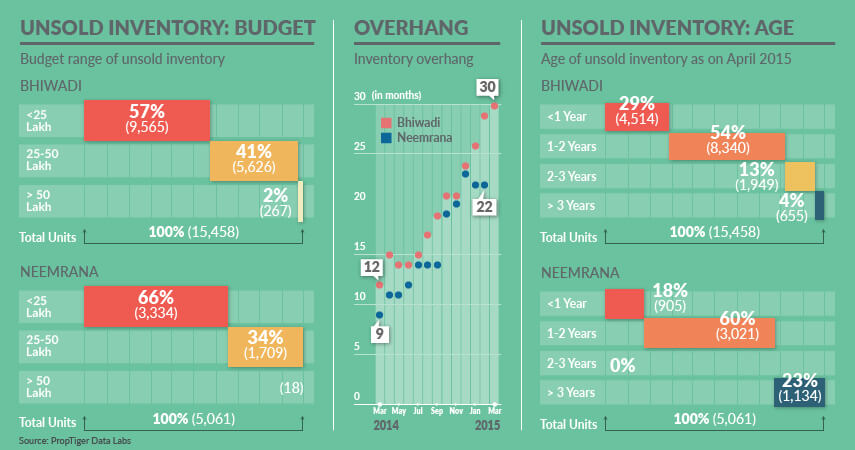 1.6 (Infographic By Sandeep Bhatnagar. Data by PropTiger Data Labs)
The Road Ahead
The residential projects in Bhiwadi and Neemrana are attractive propositions for investors, who wish to hold on to their property for over 5 years. The gestation period of such projects is long. The completion might take 5-7 years.
The projects in Bhiwadi and Neemrana are at present underpriced because many new SEZs, industrial projects and manufacturing setups that are expected to be set up in these areas, are yet to emerge.
In both these regions, apartment prices are likely to double in five years. But, Neemrana might see greater price appreciation because it is a more attractive location where prospects of planned development is higher. It is quite probable that Neemrana will replicate the development of its well-known Japanese investment zone.